MONT BLANC - PIC ADOLPHE REY
DIRETTA NW - POLICE DE GLACIERS - SACHERER CRACK- BRONSON MEMORY - GERVASUTTI - TOTAL PLOOK - COUP DE FOUDRE - BETTEMBOURG - SALLUARD - CACHE CACHE - FIL OU FACE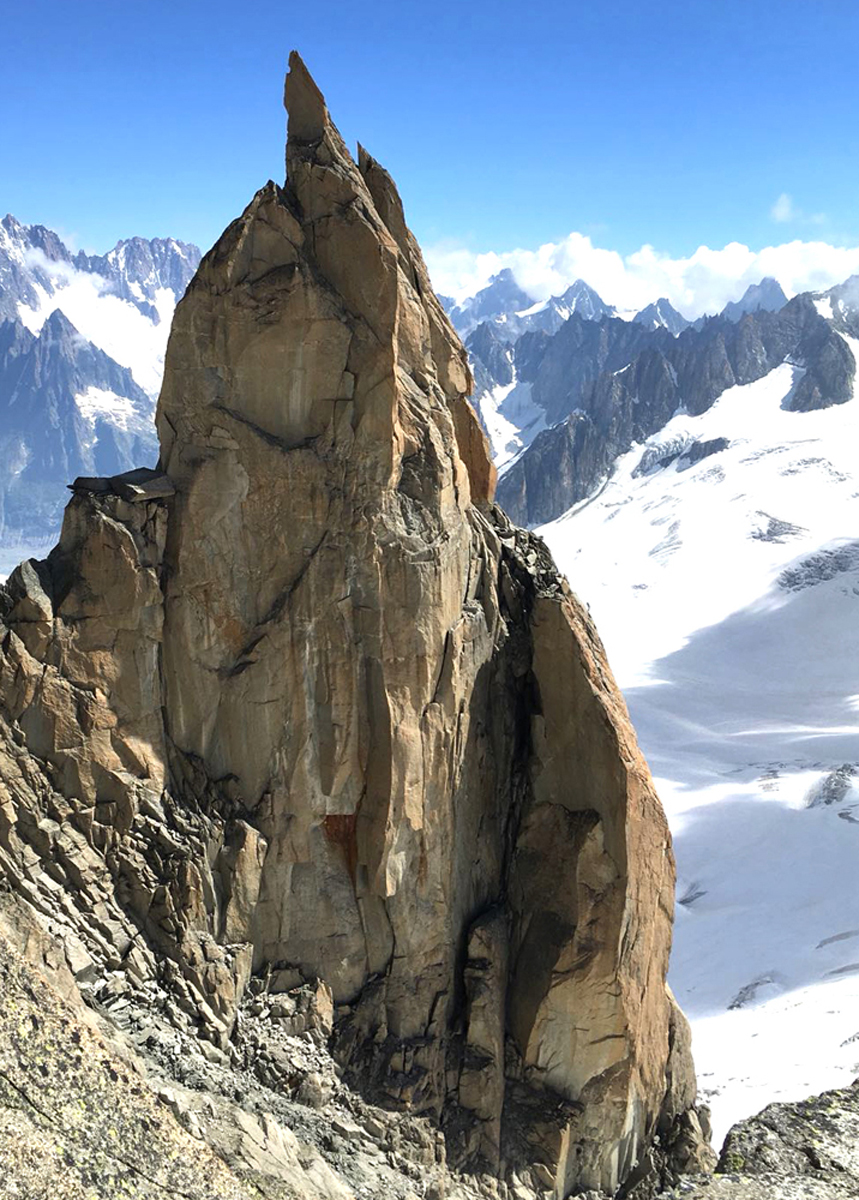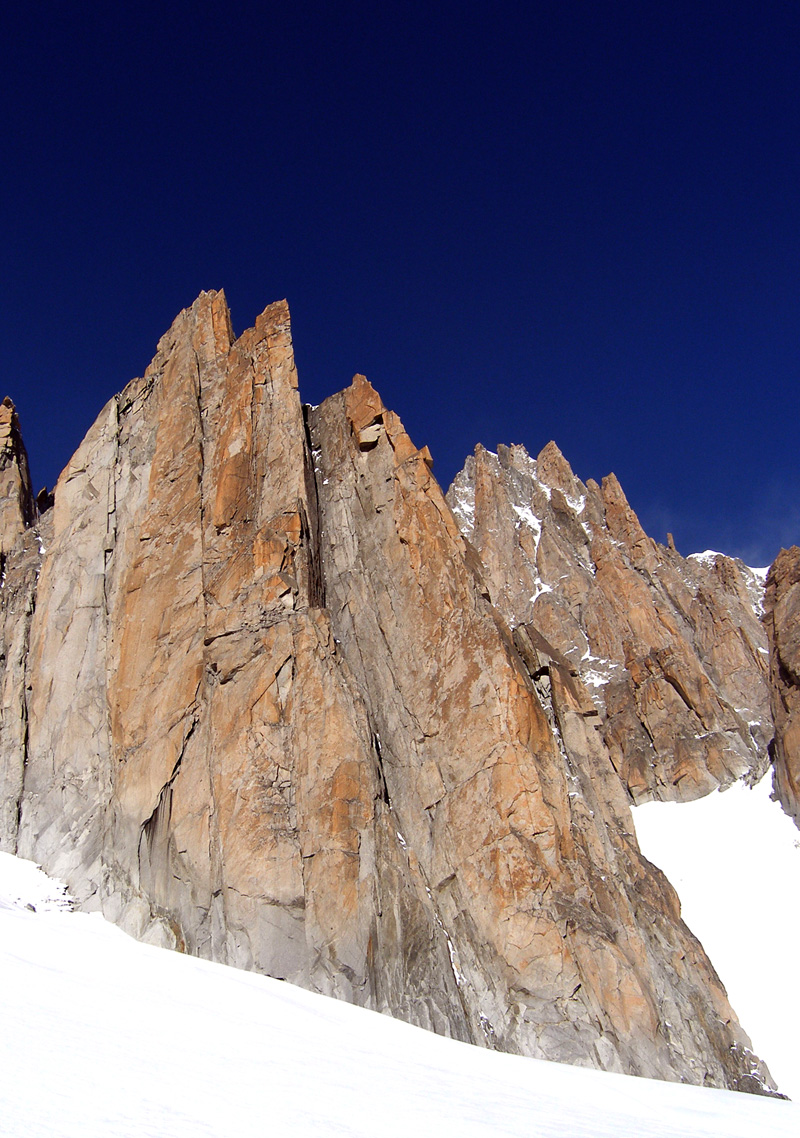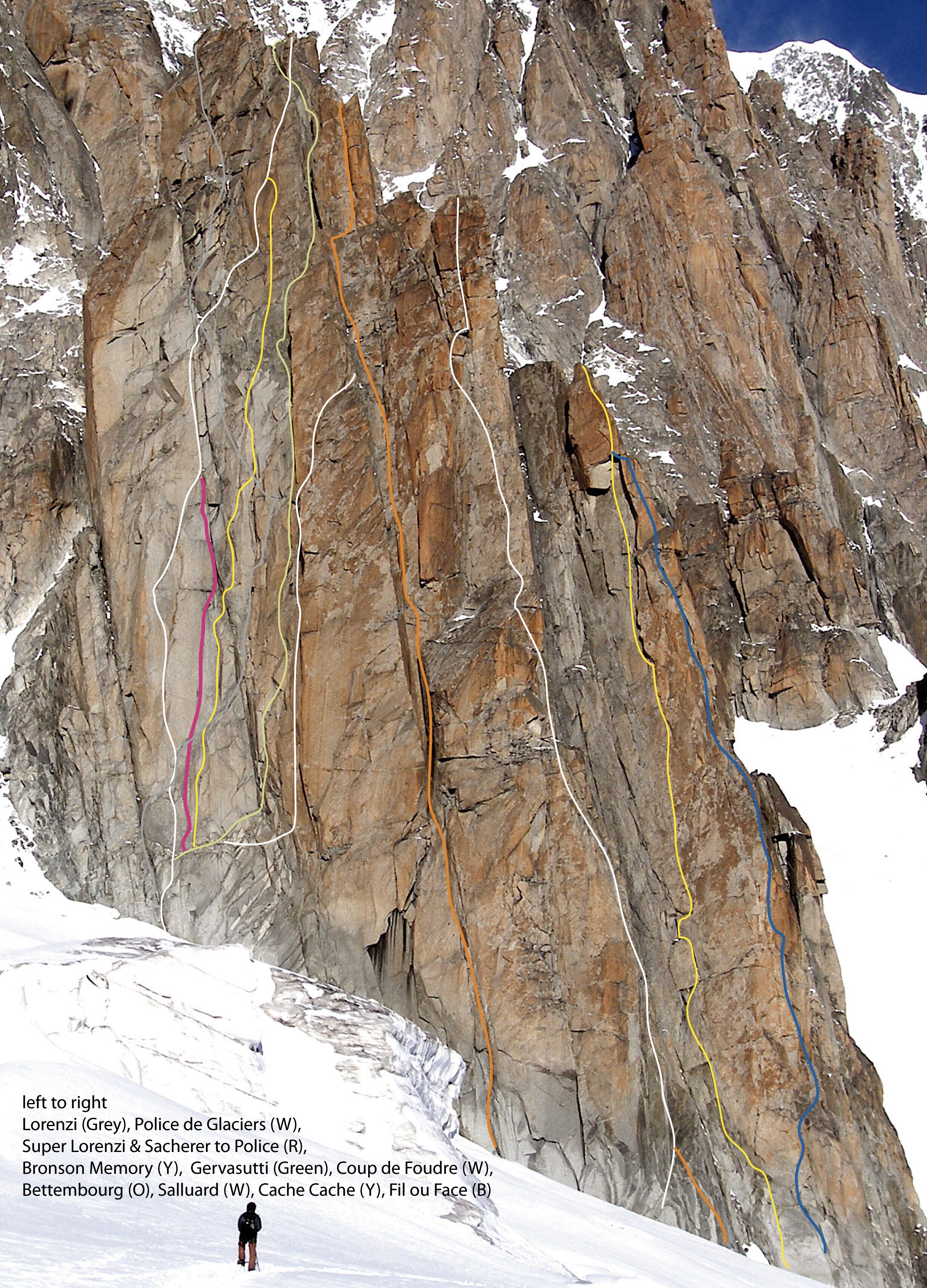 Dove i ghiacci del Cirque Maudit si versano sul ghiacciaio del Gigante, si appoggia la parete sud del Pic Adolphe Rey (m 3535), ricchissima di belle salite. Una parte, quelle del lato sinistro, si raggiungono come per il Gran Cap poi, a ridosso delle pareti, scendendo il ghiacciaio fino a passare la terminale in corrispondenza dei gradoni di roccia da cui partono tutte le vie. Solitamente il ghiacciaio in quel tratto non è tormentato, ma occorre procedere in sicurezza. Poco più di un'ora dal rifugio. Il primo gruppo di vie si raggiunge dalle terrazze ben visibili dopo un canale di deiezione di pietre che solitamente vengono inghiottite dalla terminale.Pic Adolphe Rey is at the junction between the Cirque Maudit and Gigante glacier. The routes of his upper part are approached like for the Grand Cap (from Torino hut, 1 hour), walking down the snow near the walll to a big ledge.

Diretta NW. Dettagli in MONTBLANC SUPERCRACKS
Police de Glaciers. E' la via più a sinistra. Dopo un tiro breve inizia una serie di fessure, prima minuscole poi più grandi, difficili.Police de Glaciers. It is on the left side of the wall. From the ledge climb a short pitch to a belay point (not equipped, cams). The route follows a line ok cracks, at first narrow, then wider.
Sacherer Crack. (Bassanini, Camurri, 2019). Camino fessura difficile che collega Superlorenzi a Police, con linea diretta. Hard chimney linking lower Superlorenzi with Police with a direct line. Details in MONTBLANC SUPERCRACKS
Bronson' Memory (Bassanini, Camurri, Civra Dano, 2018). Dettagli in MONTBLANC SUPERCRACKS
Gervasutti. Poco a destra della Lorenzi, segue la linea del gran diedro a sinistra del pilastro che contorna a destra le terrazze. Arrampicata classica, elegante, meritevole di una visita. Dalla cima, una calata raggiunge gli ancoraggi di Total Plook fino alle terrazze. Gervasutti. The line is the big open book at the left of the pillar which stands on the right end of the base ledge. Classic climb, amazing. Rappel from the top to the last belay of Total Plook, then follow it.
Total Plook. E' l'ultima via di destra che si prende dalle terrazze. Si può traversare a destra dall'attacco della Gervasutti evitando il primo tiro che parte dalla nicchia nella terminale, difficile e liscio, repulsivo di primo mattino. E' una salita quasi completamente in placca, raro per questa parete e per questa rassegna. Arrampicata impegnativa. Discesa lungo la via. Materiale: 12 rinvii, cordini, serie di cams (0,4-0,5-0,75-1-2 pollici), doppie le misure piccole. Total Plook. It is the last route which starts from the big ledge. From the base of Gervasutti cross right (avoiding the first pitch, often wet in the morning). It is a face route, fix equipped. Rappel on the route. Stuff: 12 qd, slings, cams (Twice 0.4-0.5-0.75, single 1-2 inches).
Coup de Foudre, completamente clean: stupenda linea di fessure incastro, 160m, ED. Parte a destra di Total Plook da cui poi è attraversata.Coup de Foudre. Jam crack route clean. 160 m, ED. It starts right of Total Plook on the well visible crack system. The last easy pitch to the Bettemboug can be avoided.
Bettembourg. Per raggiungerla occorre salire un centinaio di metri il pendio del ghiacciaio sotto la parete fino al lato destro del pilastro di Total Plook. La via parte in una difficile fessura sottile che poi si allarga in una splendida arrampicata a incastro di mano, per poi confluire nel diedro da seguire fino in cima.Bettembourg. From the base walk up the glacier near the wall to a pilier (Total Plook). At the right the route starts in a difficult narrow crack, the following pitches offer an easier jam crack and dihedral climb.
Salluard. E' la salita più frequentata, parte nel punto più basso della parete quindi molto vicino alla traccia della traversata alla Aiguille du Midi. L'attacco è dietro il pilastro che lambisce il canale a destra dello spigolo. Via classica, la discesa è attrezzata sulla parete di destra scendendo. Materiale: 10 rinvii, cordini, serie di cams (0,4-0,5-0,75-1-2-3 pollici),Salluard. It is the most popular climb of this wall, it start at the lower point of the Pic on the glacier. It is a classic climb. Rappel off the route, the line of anchors is on the right. Stuff: 10qd, slings, cams (0.4-0.5-0.75-1-2-3 inches).
Cache Cache. A destra del canale che lambisce la Salluard evita i fix di Super Lionel. Una fessura porta alla prima sosta. Bella, difficile nella parte centrale. Discesa lungo la via.Cache Cache. It starts on the wall at right side of Salluard (avoid the new fix of Super Lionel). Climb a wide crack then other jams to a big steep open book and a classic hole to the top.
Fil ou Face. Dettagli/details in MONTBLANC SUPERCRACKS.