MONT BLANC - CHANDELLE DU TACUL
BONATTI - TABOU - LIGNE BLANCHE - COSSON PHOENIX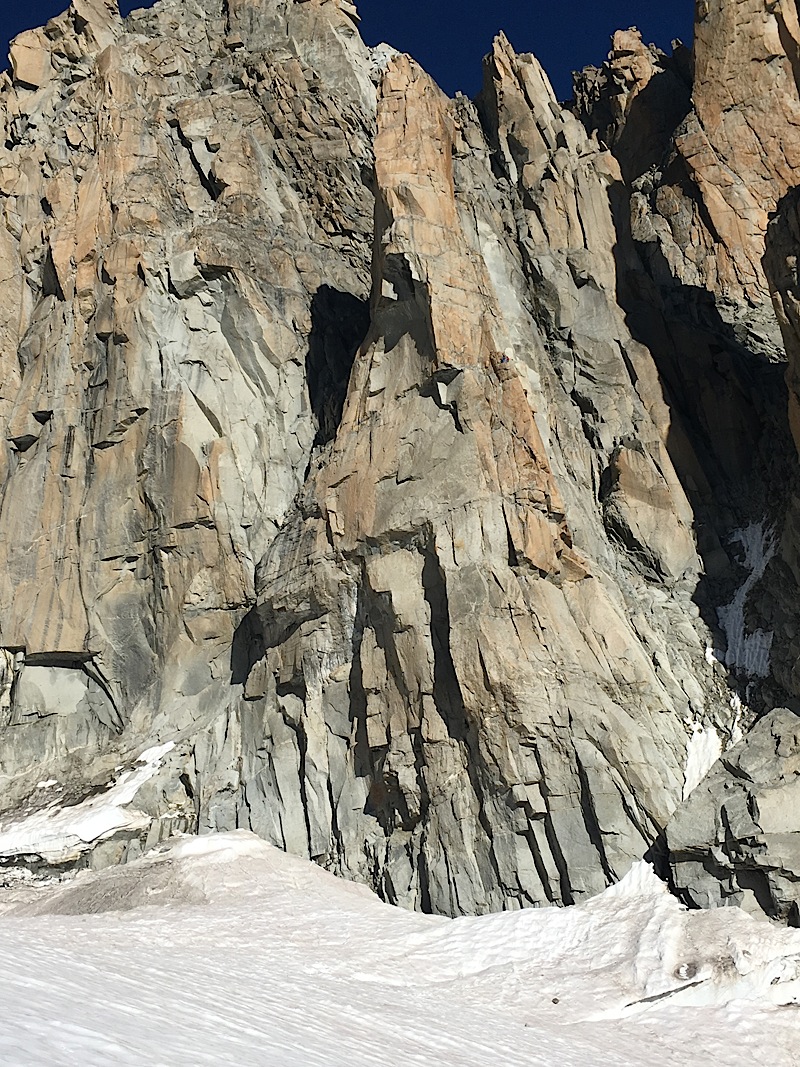 A fianco del Clocher, sulla destra, spicca la Chandelle (m 3561). Si raggiunge in un'ora dal rifugio Torino seguendo la traccia verso la Tour Ronde poi tagliando direttamente verso i satelliti. L'attacco è alla base della parete in fondo al canale nevoso fra la Chandelle e il Trident.
Chandelle (m 3561) is between Clocher and Trident du Tacul. The approach is one hour walking from Torino hut. The route starts at the base of the wall just on the side of ice couloir between Chandelle and Trident.
Bonatti. E' una superclassica, un po' per il nome e un po' perché bella. La vista è mozzafiato, dominata dalla sud del Gran Cap e gira fino alla cima del Bianco. Bonatti. A superclassic route, named and beautiful. A gorgeous landscape with the south side of the Grand Cap.
Tabou. E' diventata classica la seconda parte perché spesso la si sostituisce alla Bonatti prima del traverso. Tabou. Its second part, at Bonatti traverse, is often climbed instead the final Bonatti, so it is well known.
Ligne Blanche. La prima lunghezza è in comune con le altre vie, poi sale a destra della Bonatti. Preso lo spigolo con una violenta sezione su tacche, passa sul versante est fino alla spettacolare fessura a incastro. Ligne Blanche. It shares the first pitch with the others routes, then it goes right of Bonatti. A hard tips-sep on the edge leads on east side up the spectacular jam crack at the 6th pitch.
Cosson Lanfranconi var Phoenix. Sale il diedro nord est a destra di Ligne Blanche su granito grigio. Prima della sella, a sinistra, parte la fessura di Phoenix (7b+) che esce sullo spigolo nord prima del traverso a ovest per la sommità. The route clibbs the grey dihedral north east flanking right Ligne Blanche. Few meters before the settel starts Phoenix, finger hand crack leading on the north corner and to the west traverse before the summit.