MONT BLANC - AIGUILLE DU PEIGNE
PEIGNE PERDU - POSCRIPTOME - FERMETURE ECLAIR - VERDON MEMORIES - LE TICKET...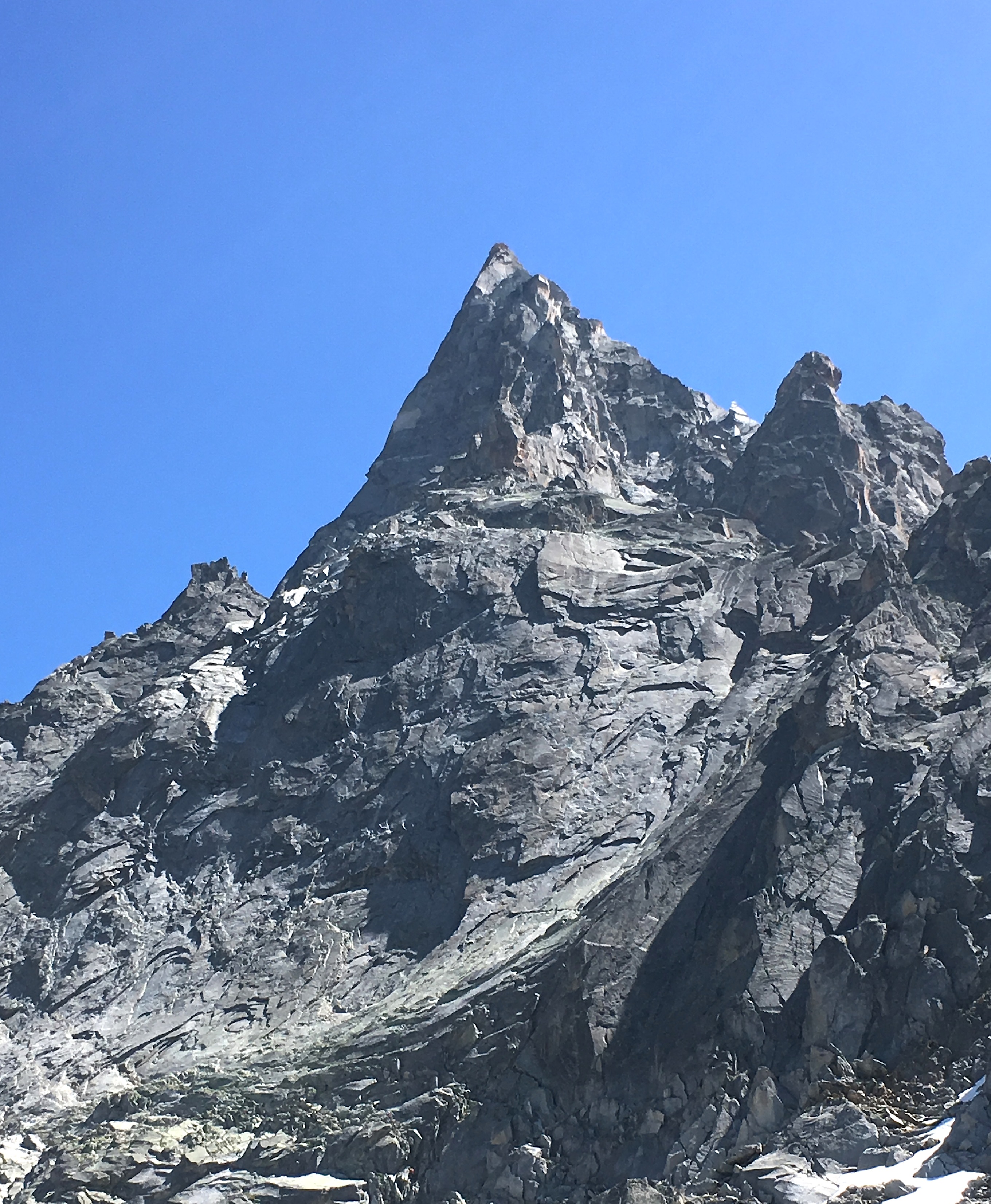 La Aiguille du Peigne (m 3192) spicca di fronte alla stazione del Plan, la sua parete ovest si volge sul Glacier de Pelerins. Dalla stazione il sentiero percorre il bordo morenico del ghiacciaio puntando alla Arete des Papillons senza troppa pendenza. In vista della parete ovest del Peigne di drizza prima dell'ultimo tratto di ghiacciaio, breve non crepacciato. Da un'ora a un'ora e trenta a seconda del ghiaccio. La parete ovest del Peigne termina su un risalto della cima, un poco più basso a destra. Si divide in una prima parte di placche inclinate che portano sotto il salto verticale della parete, che cambia completamente morfologia, verticale e fessurato, offrendo tre gioielli di scalata.
Aiguille du Peigne (3192 m) stays in front of the lift station of Plan des Aiguilles. Its west side is on the Pelerin glacier. The approach needs one hour or more depending on glacier conditions. Walk from the station on the right moraine in the line of the Arete des Papillons. When the west face appears the glacier becomes steep. The first part of the wall is a compact friction face, the second is steep with crack-lines.
Peigne Perdu. Si passa la terminale nel punto più alto, terrazzino con due chiodi. Per i primi due tiri è preferibile seguire la Voucher, poi tre lunghezze di placca, abbastanza di aderenza, chiodate un po' lunghe. A sinistra di un grande diedro nero partono le fessure.Peigne Perdu. It starts at the upper part of the glacier rim on a small ledge (pitons). First two pitches on Voucher route, than three friction pitches. The crack line starts at the left of a big black dihedral.

Poscriptome. La sua linea è a destra di Peigne Perdu.Poscriptome. Its line is at the right of Peigne Perdu.
Fermeture Eclair. Più breve delle precedenti sale a destra per un diedro fessurato, poi le placche portano alla fascia di cenge. La linea di fessure si sussegue fino alla sommità del pilasroFermeture Eclair. The shortest of these routes. It starts on the right at the rim climbing an open book, then face-pitches lead to the ledges. The crack-line climbs to the summit of its pillar
La cima della Aiguille du Peigne si raggiunge bene dal versante settentrionale, sfruttando la combinazione fra una delle vie di placca della parte inferiore della parete e andando poi a intercettare una inaspettata via di Gaston Rebuffat sullo scudo sommitale. Dalla stazione il sentiero percorre i pendii erbosi puntando a sinistra della Arete des Papillons senza troppa pendenza. Non sempre c'è nevaio. La traccia conduce alla base della grande placconata scura da dove partono le vie. Un'ora dalla stazione. La scalata va affrontata con tempo stabile.
The top of Aiguille du Peigne can be climbed from north side linking one of the face routes in the lower part with the unsospected pretty Rebuffat route on the upper shield. From the lift station of Plan des Aiguilles walk the hill at left of Aiguille de Papillons to the base of the wall.
Verdon Memories – Rebuffat. Verdon Memories sale a destra della grande placconata per un diedrino fessurato. Scalata varia con un paio di passi impegnativi. Si esce sulla cengia. Fra la prima e seconda parte si cammina un po' fra traccia e roccette fin sopra il gendarme 3009. Da lì la traccia prosegue a destra (sarà la via di discesa): non la si segue, la Rebuffat sale a sinistra di un pilastrino per una fessura che porta alla linea di fessure mano-dita che identificano
Verdon Memories – Rebuffat. It starts at the right side of the wall climbing a dihedral line. The route ends on the big ledge, scramble up to the pillar 3009, then at the left the Rebuffat route climbs a crack line and links the old Lepiney crack to the summit.